NO SLICK TALK FROM US….UNLESS IT'S ABOUT TEFLON!
Polytetrafluoroethylene (PTFE) is an amazing product. You may know it better as Teflon and it's not limited to frying pans for frying up your bacon. In fact, one of our customers asked us to make a a device that would allow them to insert a silicone wafer into a chemical solution to be coated. Because Teflon (PTFE) is resistant to the acids they were using, we recommended that this device be made with this resilient material.
Our silicone wafer dipper is made of this amazing Teflon, it is resistant to the following:
-concentrated acids -bases -solvents
-alcohols -fuel oils -detergents
-hydrocarbons-just about any chemical!
Our wafer dipper can even withstand temperatures up to 260°C (500°F).
Our stock sizes of dippers are, 2? diameter, 3? diameter, and 4? diameter.
Coming soon to a laboratory near you,
The Double Decker Wafer Dipper!
The Wafer Dipper is one example of the excellent work we do here at ShapeMaster, Inc.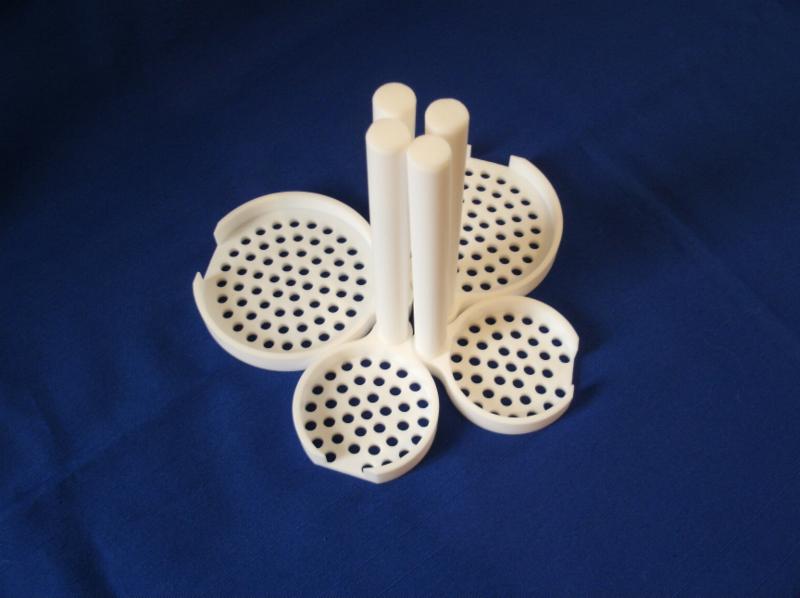 Need A Different Size, No Problem
Don't worry if you do not see the size you require. ShapeMaster can custom craft a wafer dipper quoted to your specifications. It is our pleasure to meet your requirements.
Teflon is a very practical material and can be used for many scientific projects and can fit a variety of extreme chemical and mechanical needs.
Teflon also used to make gears in motors and machines, and due to its low friction coefficient makes them more efficient and cost less power to operate.
ShapeMaster has highly skilled design engineers ready to take on any challenge and partnering with you to realize your creative ideas and dreams.
Crafting Endless Possibilities
-Rods
-Cylinders
-Spheres
-Sheets
-Reuleaux Triangles
The possibilities are endless when it comes to ShapeMaster crafting your Teflon needs!
Don't let your ideas slip away!
Please check out the wafer dippers on our website and our portfolio of products.
Call us today and ask us how ShapeMaster can solve your Teflon needs at:
1(800)-779-6925 for more information.